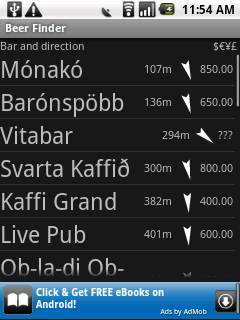 BarFinder is an android app showing you the nearest bars/pubs/nightclubs to your current location, and how much drinks cost there. It works worldwide, getting the bar listings from the excellent
OpenStreetMap
and the price data from you, the users. So if a bar is missing, or has changed it's name, you can simply logon to OpenStreetMap and fix it. And if you're at a bar, and got a different price, or any price, you can enter in the price you paid, and keep the averages fresh for everyone. BarFinder is currently a Beta product. It works, but it's not as sexy as it could be. I'm after
any feedback at all
on how you find it.
Compared to...
Google Maps on your phone is actually pretty good, but it is only as up to date as it's search results. It does include directions, but like all the others here, it makes no attempt at tracking prices. If you want to try this, just open maps and search for "bar" The other
Bar Finder
looks good, but is really just a front end to google maps. So, bars that no longer exist, bars that are missing, bars that have moved, etc. Like all the other apps, it makes no attempt to track prices. The
Good Beer Guide Mobile
is similar, but focuses more on what beers are available. It has no pricing data, only focuses on real ale pubs, and only has pubs in the UK. It also costs 5 pounds for android.
PubCrawler
is similar to the Good Beer Guide, in that it focuses on reviews of the pubs, doesn't seem to track prices, costs money, (3.99 USD) and is almost exclusively for beer pubs and breweries in the US. BarFinder focuses on one simple thing and doing it really well. Where is a drink, and how much does it cost. It works worldwide, and the database of bars is updated daily. It's also free :)
Get it now!
Requirements
Any phone running Android 1.6 or later. Phones known to work:
Vodafone 845 (Android 2.1) Motorola Defy (Android 2.1) HTC Legend (Android 2.2) HTC Dream (Android 2.2.1) Nexus One (Android 2.3)
Permissions
Internet, to get the bar data and post price updates. (And eventually ads)
Fine location details, to find out where you are. If the gps is turned off, BarFinder can use the coarse location details too.
That's it!
Privacy wise, this is a location aware application, and as such, you're
sending
your location information to me while using the app. Long term, I want to keep as little as possible, but I need to make sure the service still works, and that I can weed out anyone abusing the service and posting garbage data. There'll be a more formal Privacy Policy, but for now, figure that it's not private at all.